News
Introductory Offer Available until August 31
30th July 2019
The introductory offer for Random Chopper will end on August 31.
Get your license at the discount price of € 29 before the offer ends.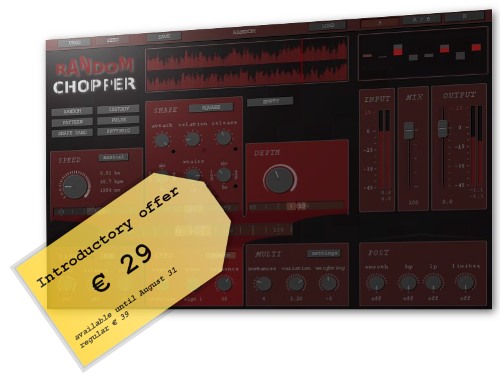 After August 31, Random Chopper will be available at the regular price of € 39.
Releasing Random Chopper
8th July 2019
Random Chopper is available now!
Random Chopper is a modulation effect that processes the gain of the input signal using an adjustable modulation curve. Unlike other modulation plugins, Random Chopper enables you to randomize the parameters of that modulation curve. Depending on your settings, Random Chopper is not only a simple chopper plugin but can also be a tremolo effect, a rhythmizer, a distorter, a glitching effect and more.
Click here for further information, tutorial videos, and sound examples!
Convince yourself of Random Chopper and try the demo for free. If you like Random Chopper, don't miss the introductory price of € 29 (limited time offer)
To receive information on updates, deals and more via email, subscribe to the newsletter.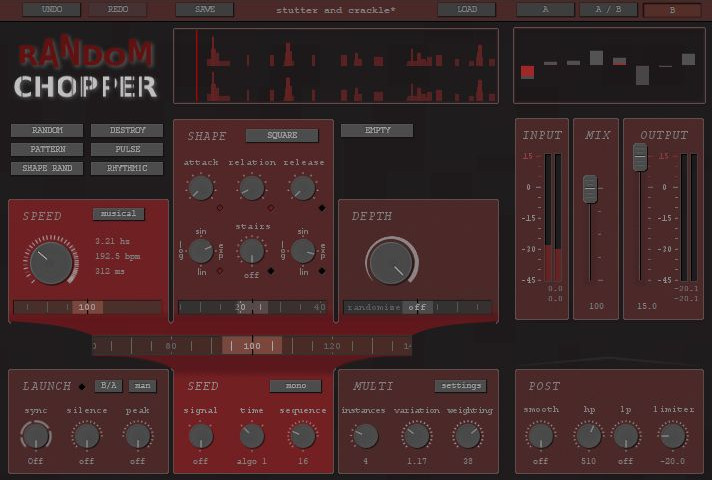 Philipe Zenz Audio
26th June 2019
Welcome to the web pages of Philipe Zenz Audio. On this site, you find information on the VST modulation effect Random Chopper. Random Chopper is not available yet but planned for release during the next weeks. You can already take a look at tutorial videos, sound demos, and the documentation.
If you don't like to miss any news on Philipe Zenz Audio or Random Chopper, subscribe to the newsletter!