Random Chopper 1.0.0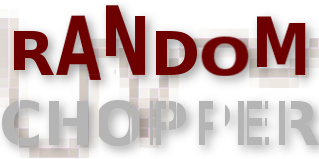 Features
Random Chopper is a modulation effect that processes the gain of the input signal using an adjustable modulation curve. Unlike other modulation plugins, Random Chopper enables you to randomize the parameters of that modulation curve. Depending on your settings, Random Chopper is not only a simple chopper plugin but can also be a tremolo effect, a rhythmizer, a distorter, a glitching effect and more.
Choose a modulation speed between 0.1 and 100 hz, allowing you to create a wide range of different effects, from rhythmic or pulsing to glitchy or ringmodulator-like sounds.
Configure individual shapes for the modulation curve using the parameters attack, release, relation, attack-shape, release-shape, and stairs.
Apply randomization individually to the modulation speed, shape or depth and adjust the randomization for all parameters using the master randomization scale.
Trigger launches at musical positions to introduce synced elements into a randomized modulation curve.
Choose between three different methods for the generation of random numbers: signal, time, and sequence.
Use the multi settings to combine different modulation curves into one resulting curve to create a complex, (poly)rhythmic or glitchy sound.
Random Presets allow you to load parameter settings involving a random factor. Use them as a basis to make your own settings.
For further information, read the documentation or try the demo version.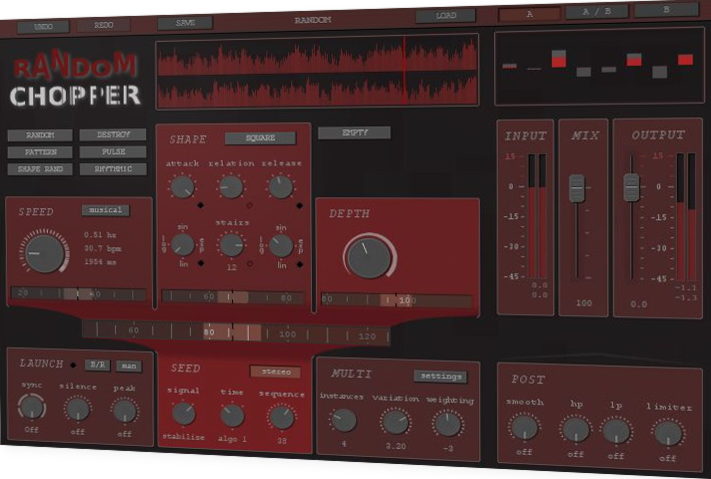 VST is a trademark of Steinberg Media Technologies GmbH, registered in Europe and other countries.
Videos and Sound Demos
Random Chopper Intro
This track contains a lot of sound elements processed with Random Chopper.
Random Chopper Intro
Processing Synth
Processing Guitar
Processing Piano
Processing Strings
Processing Drums
Processing Vocals
Processing Sine Tone
Processing White Noise
Download / Purchase
Latest Version (Version History)
Installer for Windows 64-bit
Demo Version
Try before you buy! Download and test the fully functional plugin for free. The only limitations are:
plugin settings are not restored
cannot save global presets
plugin is disabled after 30 minutes.
Automatic purchases are currently not available. If you wish to buy random chopper, please contact me via email.
System requirements:
Windows 7 or newer (64-bit only)
64-bit DAW able to host VST3 plugins
Support and FAQ
If you have questions on how to use Random Chopper or problems with using it, contact me under support@philipezenz.com. Please check if your issue is dealt with in the FAQ before you send an email.
Although I cannot guarantee that I will implement these, suggestions on how to improve Random Chopper and ideas for new features are always welcome!
Found a bug? Please send me an email and describe the issue as detailed as possible. Please do not report issues that are already listed here.
Why cannot I specify an installation path for the plugin?

Unlike with VST2, the VST3 standard defines a fixed folder into which all VST3 plugins have to be installed. All DAWs load VST3 plugins from that path. The installation path is:
C:\Program Files\Common Files\VST3
Why do I get a warning Windows protected your PC?

Windows SmartScreen warnings are a problem that many small software developers have to fight with. A SmartScreen warning does NOT mean that the file contains suspicions code but occurs when you try to execute a file that is seldom executed by windows users, for example when you are one of the first who downloads and installs a new version.
To install Random Chopper when you get a SmartScreen warning, click on More Info and then on Run. To protect the installer from malicious code, it is digitally signed. You recognize that signature at the publisher name Philipe Zenz on the SmartScreen.
Will Random Chopper become available in AU or AAX format?

Yes, AU and AAX versions are planned. However, they are not in development yet and I currently cannot tell when they will be done.
Will Random Chopper become available for Mac OS

Yes, a version Mac OS is planned but not yet in development. Currently, I cannot tell when Mac OS will be supported.
Why isn't Random Chopper available in VST2 format?

In October 2018, Steinberg discontinued supporting VST2. For that reason, VST2 plugins may no longer be released. These days, most DAWs have implemented VST3 support. If you're working with an older DAW version, I recommend checking if it can host VST3 plugins though.
Why isn't Random Chopper available for 32-bit systems?

Due to the benefits of 64-bit systems, 32-bit has become quite obsolete and also some DAWS have stopped supporting 32-bit. For that reason, a 32-bit version is not included in the installer package. If you're nevertheless interested in a 32-bit version of Random Chopper, you may contact me.